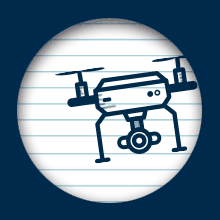 Find Naval STEM videos you need, when you need it.
Autonomous Ships and Boats with Dr. Bob Brizzolara
The Navy is creating ghost ships, and Dr. Brizzolara is at the helm of the design! Think your STEM talents can help in this area?
Autonomy for Unmanned Systems with Aamir Qaiyumi
Aamir Qaiyumi is dedicated to making maritime robots smart! Who says Sci-Fi can't be a reality?
Chemical Oceanography with Channing Bolt
No icebreaker is needed for Channing Bolt, although she has ridden on one! Learn how Channing is earning her PhD through Artic Research. Did I mention her degree is fully funded by the Navy?
Cyber Security with Dr. Waleed Barnawi
This video is one of a series introducing STEM college students to cutting-edge science and technology topics that impact the U.S. Navy and Marine Corps. The series is part of a student challenge called "Naval Horizons."
Cyber Social Science with Dr. Rebecca Goolsby
Ever wonder about how social media is changing society? Come learn about research on cyber-social communities and information science and why it's important to the Navy, with ONR's cyber-anthropologist, Dr. Rebecca Goolsby.
Fluid Mechanics with Dr. Karen Flack
Found out why this Fluid Mechanician's career is a real drag. It's the slime for me!
Human Systems Engineering and Integration with Maria Thorpe
Ms. Maria Thorpe is obsessed with the human! A position in Human Systems Engineering could be the coolest experience ever! How would you like to simulate what it's like to eject from an aircraft, work with human subject testing, or be one?!
Identifying Signatures with Dr. Anne Fullerton
What's your signature? Dr. Anne Fullerton spends her work days identifying signatures for the Navy. Yep, that's a Navy career!
#MakeMarinesMoreCapable with Susie Alderson
Meet the "Mother of MRAP," Ms. Susie Alderson. Her passion is to
#MakeMarinesMoreCapable
in any and every environment!
Materials and Additive Manufacturing with Dr. Jennifer Wolk
Learn about what gets Dr. Jennifer Wolk "jazzed" about additive manufacturing and going beyond the current technological bounds! Here about what led her to a career with the Navy!
Moving Energy with Dr. Paul Jaffe
Dr. Paul Jaffe has connections at the International Space Station. Yes, he works for the Navy, but power beaming sometimes warrants a different atmosphere!
Nanomaterials with Dr. Richard Ordoñez
Nanomaterials, microelectronics, and…honey?! Check out how Dr. Ordoñez uses nanotechnology to help the Navy. Sweet!
Optoelectronics with Dr. Dio Placencia
Dr. Placencia's work in optoelectronics augments our reality. Your favorite Snapchat filter has nothing on this!
Reimagining Naval Power with Admiral Lorin Selby
Admiral Selby, Chief of Naval Research, introduces Naval Horizons and discusses the technology that drives the U.S. Navy and Marine Corps. He discusses your important role in the future of STEM and how your thoughts on science and technology will shape the future of the Navy.
Research Vessels with Rob Sparrock
Can you imagine starting your day with an incredible sunrise at sea followed by a journey 21,000 feet down to the dark depths where few have ventured?! See how Mr. Sparrock has found his dream job in managing Naval Research Vessels.
Ship Dynamics with Dr. Leigh McCue
Dr. Leigh McCue loves problems that mix mechanical, aerospace and naval engineering. If you do any boating, she's the person you need to know!
Software Development with Phil Baptiste
How would you like to develop custom-made, easy-to-use apps for dynamic delivery thru an App Store? Philip Baptiste is working to bring modular and uniquely intuitive apps to the ships of the Navy!
Undersea Medicine with Dr. Sandra Chapman
Dr. Sandra Chapman's ultimate work goal is to turn mere mortals into Aquaman! How'd you like to have a pair of gills to go swimming? Dr. Chapman plans to make this a reality!
Bernoulli's Principle with Annie Dunigan
Ever wondered how an airplane can fly? Check out these cool demonstrations that explain it all!
Chemical Engineering with Hema Manivannan
Hema Manivannan discusses her journey from student to a Chemical Engineer with the Department of the Navy!
Data Science with Reece Koe
Reece Koe loves his Navy career! Hear about his experiences with the Navy and Data Science!
Electrical Engineering with Katie Pfeiffer
Katie shares her experience about earning two internships with the Navy and working for the Navy as a college student.
Engineering Design for Parachutes with Mitch Jorgensen
Yes, there's science behind skydiving! Hear all about it in this video by a member of USNA's Parachute Team!
Mechanical Engineering with Lily Stewart
Lily Stewart didn't know anything about civilian careers with the Navy. Now, she works for the Navy as a Mechanical Engineer for rescue submarines!
Mechanical Engineering with Sohom Roy
Sohom enjoyed his internship with the Navy as a high school student. Learn about his experiences and educational journey!
Plasma Physics with Darryl Watkins
Darryl Watkins shares his experience as an NREIP intern and how he went from intern to contractor while still a student!
Seal Whiskers with Dr. Christin Murphy
Learn about how the Department of the Navy is using seal whiskers to imagine advances in energy efficiency to help the planet! Who knew that these cute creatures could help us humans in such a way?!
The Science of Seal Tracking with Monica DeAngelis
There's so much to learn from seals! Learn why the Department of the Navy is tracking these lovable furballs and the science behind it!
Steganography with Luke Murphy
Who doesn't love a good optical illusion? See how the science of Steganography gives meaning to the idiom: hiding in plain sight!
Whale Acoustics with Dr. Regina Guazzo
Do you speak whale? Dr. Regina Guazzo's research may just make her fluent in whale vocalizations! Learn how the Department of the Navy is using whale sounds to learn more about the lives of whales.
Workforce Development with Emberle Pearson
Emberle Pearson shares her STEM journey to her dream job!
Aerospace Optometry with LCDR Micah Kinney
Medicine, Dentistry and Optometry? Yep! The Department of the Navy needs input from all of these fields of study when innovating some of its technological advances! Check out LCDR Micah Kinney's, an Aerospace Optometrist/Vision Scientist at NAVAIR Patuxent River, amazing journey as a STEM professional in healthcare and human performance and how he contributes to the U.S. Navy mission needs.
Aircraft Flight Test & Evaluation with Sarah Naiva
How would you like for you job to send you to test pilot school? Well, for Sarah Naiva, it was a reality! Hear from Sarah Naiva, a Mission System Test Lead at NAVAIR Patuxent River, about her career journey and passion for supporting the U.S. Navy as a STEM civilian.
Computer Science with Dr. Jeff Ellen
When your work environment is the ocean, you need to know as much about it as possible, and that's just what the U.S. Navy is doing! Dr. Jeff Ellen, a Research Scientist with the Naval Information Warfare Center Pacific, shares on how his background in Computer Science is helping the U.S. Navy learn about the ocean. From weather effects to ocean surface motion, Dr. Ellen is playing his part to keep the U.S. Navy a leader in ocean knowledge.
Cybersecurity with Jennifer Cheung
Getting software update notices often on your devices? Chances are it's a security patch! Jennifer Cheung, a Cyber Research Scientist, says she feels like a hero in her everyday work! Hear from Jennifer on how her background in mathematics is the foundation of her Cyber knowledge and how she supports the U.S. Navy.
Data Science with Alicia Scott
Environmental Science with Dr. Jessica Carilli
Would you like to test new technologies to help protect coral ecosystems? Hear Dr. Jessica Carilli discuss her career as an Earth Scientist with the U.S. Navy and the amazing "rainforest of the sea" project she's currently working on.
From Computer Engineering to Executive with Ms. Karen M. Davis
Hear from Ms. Karen M. Davis, Executive Director for Industrial Operations NAVSEA, regarding her career journey as a U.S. Navy STEM civilian and how her journey has allowed her to see the full picture of U.S. Navy needs.
Naval Aviation with CDR Anton Orr
Hear from CDR Anton Orr on how his #STEM education in Ocean Engineering and Operations Research contributed to his US Navy fighter pilot career and later work within the Naval Research Enterprise! He is the Deputy Department Head for Aviation and Weapons at the Office of Naval Research.
Nuclear Engineering with Dr Arielle Miller
Nuclear reactors in space?! That's definitely next level! Hear from Dr. Arielle Miller, the NavalX Technical Director at the Office of Naval Research, on her passion for Nuclear Engineering and her career journey with the U.S. Navy.
Sensor Integration with Israel Jordan
Technology is always advancing, and the U.S. Navy is not letting up! Hear from Israel Jordan, the Director of Technical Initiatives and Strategy Office at NAVAIR Patuxent River, on how he is an advocate for technological innovation amongst fellow STEM professionals, students and teachers, and how his love for sensor integration supports the U.S. Navy.
Autonomous Weapons with Amanda Clark
From Bio Defense to Robotics? Amanda Clark took quite the pivot in her career to become the Branch head for Autonomous Weapons and Robotic Systems at the Naval Surface Warfare Center Dahlgren Division. How'd you like to create robots and teach them how to carry out missions as a career? That's just some of what we do at the Department of the Navy!
Chemistry and Industrial Health with LCDR Laura Moody
LCDR Laura Moody had no intention of joining the military, but it was the path she was destined for! Listen as LCDR Laura Moody, a chemist with the US Navy Medical Service Corps, describes her educational journey to a career in Industrial Health with the Navy.
Computer Engineering with Gabrielle McCormack
Taking the advice of her mother to take advantage of opportunities, Gabrielle McCormack was able to score two paid summer internships and a DoD scholarship with the Department of the Navy as a student. Gabrielle is now a Computer Engineer at NAWCAD Lakehurst and has a job that she is excited to do daily. Listen to her incredible journey and how it brought her to where she is today!
Cybersecurity with Joccelyn Coleman
For Joccelyn Coleman, it wasn't a straight path to becoming a Computer Scientist. Check out Joccelyn's journey to a career in the Cybersecurity Branch at the Marine Corps Systems Command and how she feels rewarded in securing our Marines!
Dr. Ramon Flores – From Rocket Science to STEM Coordinator
Description: Dr. Ramon Flores is the STEM Coordinator for NAVSEA. His journey to the position is incredible. From growing up in Mexico and not knowing any English, to being a rocket scientist, his path has positioned him perfectly to make an incredible impact on the next generation of scientists and engineers! This is a must watch! Marines – United States Marine Corps – https://www.marines.mil/ NAVFAC – Naval Facilities Engineering Systems Command – https://www.navfac.navy.mil/ NAVSEA – Naval Sea Systems Command – https://www.navsea.navy.mil/
Environmental Microbiology with Dr. Meriah Y. Arias-Thode
Did you know that we know less about the ocean than we do about outer space? Senior Environmental Microbiologist Environmental, Dr. Meriah Y. Arias-Thode, of NIWC Pacific San Diego knows this all too well! Take a look at Dr. Arias-Thode's amazing journey to the Department of the Navy and her unique research of getting energy from mud!
NASA Astronauts Answers Your Questions
Brought to you by the U.S. Naval Test Pilot School (USNTPS) and NASA, Southern Maryland students and test pilots under instruction at the USNTPS get their questions about space answered by NASA astronauts aboard the International Space Station via a space-to-earth video downlink. NASA SpaceX Crew-5 Commander Nicole Mann, with astronauts Josh Cassada and Frank Rubio, answers questions on what it is like to live and work out-of-this-world. Both Mann and Cassada are graduates of USNTPS, and served as test pilots in the U.S. Marine Corps and U.S. Navy. More than 90 other USNTPS graduates have become NASA astronauts!
Naval Aviation with CDR Christopher "Frozone" Williams
Ever wonder just how STEM factors in to Naval Aviation? CDR Christopher "Frozone" Williams, a United States Naval Fighter Pilot, spells it out for you plainly! Top Gun was cool, but what you didn't see in the movie is that there's a whole lot of STEM education needed to be an effective fighter pilot. Take a look!