Ben Harvey, a Senior Research Chemist at Naval Air Warfare Center, Weapons Division China Lake (NAWCWD) was moderately surprised when Bryan Goldsmith made an unexpected call. Dr. Goldsmith, Dow Corning Assistant Professor of Chemical Engineering at the University of Michigan Ann Arbor, had been Dr. Harvey's protégé when Goldsmith was a NREIP intern at NAWCWD more than a decade earlier, but they only sporadically kept in touch.
This call, however, was about more than catching up. Dr. Goldsmith was on a mission and wanted his mentor's help changing how the world flies by making more environmentally friendly biosynthetic fuels.
"Bryan sort of contacted me out of the blue," Harvey says now. However, he jumped at the chance to work with Goldsmith again. Harvey calls Goldsmith "a real success story to come out of NREIP."
Goldsmith's "success" in chemistry was almost cut short before it even started. In his junior year, he dropped out of his high school chemistry class. Not even sure he wanted to go to college, he didn't see the value.
However, his chemistry teacher Lisa Dickens wasn't having it and pushed him to reconsider.
"She had a really profound influence on me in terms of believing in myself academically and making me realize that if I'm good at chemistry and math and I honed those skills, then I could really go somewhere with my life," Goldsmith recounts.
It was a pivotal moment. He reenrolled in her class in his senior year and was later admitted to the chemical engineering program at the University of California – Riverside as a first-generation college student. Not content to stop there, he earned his PhD in chemical engineering at the University of California Santa Barbara in 2015.
Before all that, at another pivotal moment while in college, Goldsmith applied to the NREIP program and was placed at NAWCWD. The China Lake site is a naval research center that operates more than 1.1 million acres of land ranges and multiple weapons development laboratories for the Department of the Navy, just 150 miles north of Los Angeles. NAWCWD looks for interns who want to contribute to the Navy mission while expanding their knowledge and experience in a variety of scientific and engineering fields.
Goldsmith's interest in chemical engineering made him a strong candidate to work with Dr. Harvey, an expert in biosynthetic fuels research. For Goldsmith, the NREIP internship at the NAWCWD site was memorable and unique.
Goldsmith said the internship made him more competitive for his Ph.D. However, it was not just about science but also about life experience and human connections. Goldsmith still remembers riding his bike at 6:00 AM in the rural area to work, facing summer heat, drenched in sweat, and getting flat tires from goat's head thorns almost every day. He enjoyed hanging out and getting to know other interns and staff scientists. China Lake was where he got his driver's license at the age of 21. He also enjoys telling the story how he climbed one of the local peaks with another NAWCWD mentor, a researcher in his 60s who wore leg braces but would sprint up the mountain. That man, Goldsmith points out, was a leading expert in his field.
"Here I was 21 and he was just blowing me out of the water," he recalls. "And I just remember thinking how amazing some of those people were."
But it was the research that stimulated Goldsmith's passion to use science as a tool to protect the environment and that cemented his career. Harvey, Goldsmith, and other members of the team worked on catalytically converting molecules to renewable jet and missile fuels. For his part of the effort, Goldsmith was rewarded with a research credit in the prestigious chemistry journal ChemSusChem.
"We [interns] were right in the mix being treated like peers and doing hands-on research every day that was cutting edge," Goldsmith says.
Goldsmith now runs a lab bearing his name – the Goldsmith Lab – at the U. Michigan, leading a team of scientists and students where they focus on "Modeling catalysts and materials for a sustainable future," such as investigating potential alternative fuels.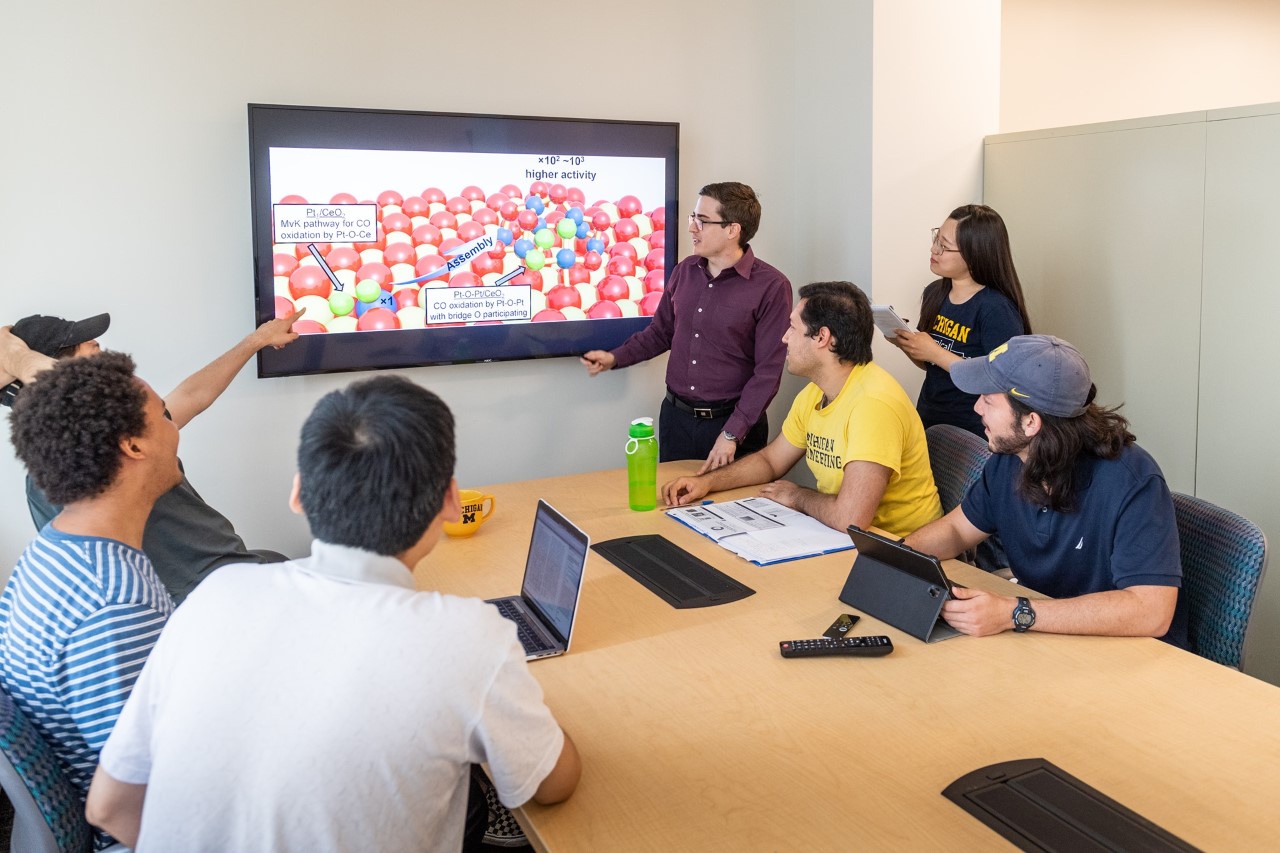 His proud high school chemistry teacher made a surprise visit once the lab opened. "We have stayed in touch," he notes.
He also now teaches machine learning to graduate and undergraduate students and says his experiences at NREIP led him to treat his students as colleagues and peers, giving them the freedom to learn from their own mistakes. Focusing on quantum mechanical modeling and machine learning, he now leverages advances in computer science to encourage innovation and the discovery of new chemistries for sustainable fuels by using computational modeling to determine chemical reactions related to energy and environment.
Recently, Goldsmith started to think about the work he did at China Lake and had an epiphany. "I hadn't worked on [that research] again until this year when I decided I want to go back to that area because it's interesting, but I also wanted to try coming at it from another angle," he says. While he and Harvey had used transition metal catalysts to separate transform molecules and create fuel, he wondered "What if we used electricity?".
After thinking about it he realized China Lake would make an obvious potential collaborator. So, he called Harvey.
"Ben is a world expert in this type of chemistry," he says. "And then there's just the fact they have the infrastructure to take these chemicals that are made and then test them in actual jet engines. That's not something we can do here."
It's too early to expect to see the results fully realized anytime soon and commercial viability is a long way away, but Harvey sees massive real-world value in what Goldsmith is doing.
"He's developed some new techniques in electrocatalysis that could be really useful for the production of high-performance jet fuels," Harvey explains. "And the technology that he's developing may allow us to do this not just in the laboratory or a biorefinery setting, but in the field, using local resources. So, you could get remote production of fuel and that would be very interesting for a location like Ukraine, for example."
For his part, Goldsmith relishes working with his old collaborators.
"There's no one better to collaborate with than China Lake, Goldsmith says. "I never thought as an intern it would work out this way but those connections that I made there are extremely valuable."