It was a chance encounter with a high school teacher that led Zachary Storti on his STEM journey. Or, more accurately, with his teacher's spouse.
"(My teacher's husband) worked for the command," Storti says. Having heard about Storti's interests and abilities, the teacher passed on information that would immediately change Storti's life: There was a high school STEM program called the Office of Naval Research's Science and Engineering Apprentice Program (SEAP). Her husband got the information to Storti who then applied, was accepted, and spent a summer at Naval Information Warfare Center Atlantic (NIWC Atlantic) in Charleston, S.C.
Later, while attending Trident Technical College, Storti joined the college-level Naval Research Enterprise Internship Program (NREIP) at the same NIWC lab. He says his interest and studies in computer technology was what helped him meet the criteria for the internship.
"I was never really good with science and math," he admits now. "I was more interested in the computer science part of STEM, so I took as many computer classes as possible which inspired an interested in cybersecurity."
Then, having figured out how to accelerate his career at a hare's pace, Storti found himself with a full-time position at the very place where he started.
Storti had dual enrolled at a local technical college while still in high school, earning around half the credits he needed for an associate's degree before he even graduated, a degree he went on to complete. And with that, he was offered employment with the NIWC Atlantic — first as the internship coordinator, then as a cybersecurity analyst.
Within just a couple years after finishing high school, Storti had a job in his field.
"The demand for STEM graduates was high at the time," he says. "So, the command began exploring other avenues for expanding its workforce, which included STEM education initiatives."
Later, Storti took on a new role at NIWC Atlantic as a Program Support Specialist, which exposed him to a whole new calling. With the assistance of his new employer, he is now pursuing another degree.
"Once I came aboard the command as a full-time employee, I got introduced to other things, and that led me to now pursue my bachelor's in project management."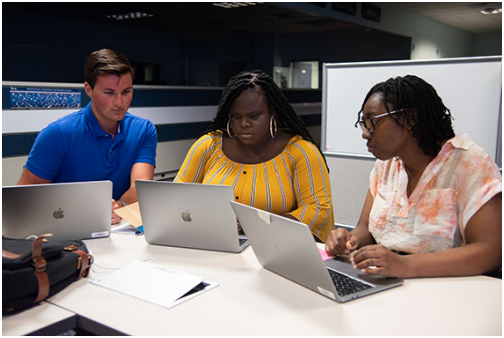 It's an experience that helps inform his role as internship coordinator for which he guides students looking to find their own career paths.
"I work closely with every student to help them decide what they want to do with the rest of their life," Storti says. "I try to match each student with a mentor that shares a similar interest or field background. Just having that open interaction with everybody is probably what I enjoy most about my day."
Storti acknowledges not everyone will have the same opportunities or can follow the exact same path he is on, but he says it's important for potential interns to know that there's no specific route to getting to NIWC Atlantic.
"You still have value and skills that are important and can serve the warfighter," he says. "Making sure our interns know that they are valued is one of my top priorities, even if they haven't come from a similar background."
Storti's desire is to see his interns succeed, and he has instituted programs to help them ensure career advancement.
"Over the past several years, I have assisted with the coordination of this program, and our team has identified several skillsets that our student interns lacked, so we developed programs to fill those gaps, like resume writing, and other soft skill training," he says. "We give as many opportunities as possible to grow and develop students into young professionals."
As for the number one challenge in the internship? Patience.
"The security clearance process and paperwork all take time to be processed," he says. "Patience is my number one recommendation for any government internship."